Food contact materials (FCMs) are all materials and articles intended to come into contact with food, such as packaging and containers, kitchen equipment, cutlery and dishes. These can be made from a variety of materials including plastics, rubber, paper and metal. They also include materials used in processing equipment, such as coffee makers or production machinery as well as containers used for transport. FCMs should be sufficiently inert so that their constituents neither adversely affect consumer health nor influence the quality of the food.
The international symbol for a "food safe" material is a wine glass and fork symbol. The symbol identifies that the material used in the product is FCS. This includes food and water containers, packaging materials, cutlery etc. and is more commonly found on consumer products than on industrial equipment.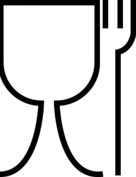 The symbol is used in North America, Europe and parts of Asia. It is mandatory for products sold in Europe after the Framework Regulation EC 1935/2004
The EU rules on FCMs can be of general scope, i.e. apply to all FCMs or apply to specific materials only. EU law may be complemented with Member States national legislation if specific EU rules do not exist. The safety of a FCM is evaluated by the European Food Safety Authority (EFSA) in accordance with the Framework Regulation EC 1935/2004.
The USA rules on FCMs are generally enforced by the U.S. Food & Drug Administration (FDA) and they tend to be separated into three different types of food additives:
Direct food additives

- components added directly to the food

Secondary direct food additives

- components that are added to the food due to food treatment like treating food with ionic resins, solvent extraction

Indirect food additives

- substances that may come into contact with food as part of packaging or processing equipment, but are not intended to be added directly to food
If a material is expected to come into contact with a food substance, then it will need to be covered by one of the following for it to be accepted by the FDA:
a regulation listed in Title 21 Code of Federal Regulations
meeting the criteria for 'Generally Recognized as Safe' (GRAS) status, including but not limited to a GRAS regulation or GRAS notice
a prior sanction letter
a Threshold of Regulation (TOR) exemption request
or an effective Food Contact Substance Notification (FCN).
Under Title 21 Code of Federal Regulations, the food contact materials are described in articles 174–190, but the important starting points would be:
21 CFR 175 Indirect food additives

: Adhesives

and components of coatings

21 CFR 176 Indirect food additives

: Paper and paperboard components

21 CFR 177 Indirect food additives

: Polymers
It is the responsibility of the manufacturer of an FCS material to ensure that it complies with the specifications and limitations in all applicable authorizations. When reviewing your FCM to determine its compliance, consider the limitations on the conditions of use. You may ask the manufacturer for a letter of guaranty certifying that a particular product is acceptable for the intended food-contact use.
Once you have a product that is believed to be compliant with FDA regulations and Framework Regulation EC 1935/2004, the product itself will need to tested to be given its stamp of approval and receive its food safe symbol. The Public Health and Safety Organization (NSF) is an organization capable of performing the necessary tests and are capable of certifying a product for use in both the US and EU.
Interested in learning more about Boulder Engineering Studio? Let's chat!
References: